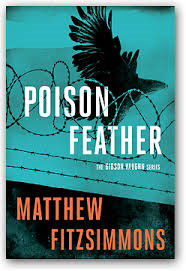 RATING: 5 out of 5 Stars
Once again Matthew FitzSimmons has me engrossed as I follow his main character, the always surprising and ethically ambiguous Gibson Vaughn on another thrilling adventure in his new book, POISONFEATHER.
The judge who changed the young Gibson's path in life, his friends and family and many others have all been scammed by Charles Merrick for their life savings. Merrick is about to be released from prison after only an eight year sentence and he has hinted that he still has money working for him. Suddenly, everyone wants a piece of Merrick and his money and they will be waiting for him to walk out of prison.
Gibson wants to get the money for the judge, an ex-con wants the money to start a new life and a small town bartender wants revenge. These three need to work with each other to stay ahead of a CIA handler, a Chinese spy, hardened criminal gangs and mercenaries all set in a small town in West Virginia. Believe it or not, the author does make all of these characters come together into a wild and thrilling story.
Gibson Vaughn always seems to find himself trying to do the right thing for the right reason, but things always end up being more complicated. Mr. FitzSimmons is truly a master at seamlessly weaving his main plot with many subplots that all tie together into a fast paced thrill ride for Gibson and the reader. The cast of characters are all interesting, written with depth and motivations that make them fit together like pieces of a puzzle.
There are small references in regards to the first Gibson Vaughn book, The Short Drop, but it does not change the main focus of this book, which can easily be read as a standalone. Reader Alert: The ending is a BIG cliffhanger! I normally hate cliffhanger endings, but Mr. FitzSimmons made it work for me and I will be anxiously awaiting to find out the fate of Gibson Vaughn.
Thank you very much to Thomas & Mercer and Net Galley for allowing me to read this eARC in exchange for an honest review.