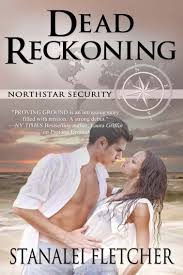 RATING: 4 out of 5 Stars
DEAD RECKONING (Northstar Security #2) by Stanalei Fletcher is a fast paced, action packed romantic suspense with amnesia, a hurricane, the Russian Mafia, a Northstar operative, who is an ex-SEAL and a juvenile infatuation turning into mature love. This book is part of a series, but it can be read as a standalone.
Kellee O'Neal has amnesia and is a refugee from a hurricane destroying her home in Florida. She is afraid, but doesn't know why. When a man approaches and seems to know her, she reluctantly follows because he says he works for her father and can take her home. As her memory slowly begins to return she remembers her juvenile crush on this man, but she is grown now and wants him to see her that way.
Egan Maddox is asked by Kellee's father, the director of Northstar Security to locate Kellee since he hasn't heard from her since the storm and hide her away from a threat from his past. Dealing with a girl he is both attracted to and responsible for, without her total trust is trouble waiting to happen.
Neither Egan nor Kellee know the true threat searching for them and the unknown secrets from the past can get them both killed. The Russian Mafia is closing in and Kellee is going to have to have to face truths about her family and hope her love for Egan is strong enough to carry her through.
This is a well written romantic suspense that has some surprising twists well placed in the plot. The romance is well paced and believable. The sexual tension is high between these two and is well written because it doesn't feel like a tease or get overplayed. At times, some of the secondary characters seemed like caricatures and I did not stay completely in the story. It was a good read otherwise and I will continue with this author and series.
Written for and posted first on The Romance Reviews.com.