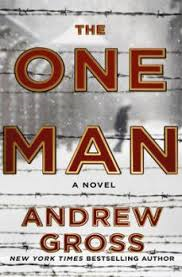 RATING: 5 out of 5 Stars
I recommend this book highly for all lovers of historical fiction thrillers!
THE ONE MAN by Andrew Gross is one of my favorite books so far this year! I love stories set in the WWII era of history and then the author added twists and turns that have you constantly on the edge of your seat. I didn't want to put this book down. I will warn you though, the last scene set in the past had me crying buckets.
This book has many threads of plot. You are shown the race to be the first to construct an atomic bomb, the ghettoes and transport of Jews to concentration camps, the horrors of Auschwitz and a daring mission by one man to break in to Auschwitz to rescue a scientist with the knowledge to help win the race to build the bomb for the United States.
The plot keeps you reading and completely engrossed in the story. The characters, good and bad, are all well written and believable. This book will immerse you in the past and set you on a fast paced thrill ride.
Thank you very much to St. Martin's Press-Minotaur Books and Net Galley for allowing me to read an eARC of this book in exchange for an honest review. It was great!