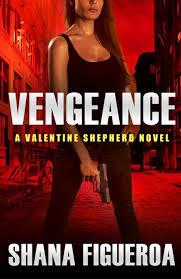 RATING: 5 out of 5 Stars
This book is NOT what I was expecting! VENGEANCE (Valentine Shepherd #1) by Shana Figueroa is going to be one of those books and series you are either going to love or hate. Love because of the great characters and plot, hate if you are not into explicit sex scenes in all variations, F/F, M/M, M/M/F and M/F.
P.I. Valentine Shepherd is thrust into a case when her attorney fiancée is run down and killed while trying to get information from an informant to clear his client, Max Carressa, billionaire heir, who is suspected of killing his father. When the informant is shot and killed, Val is chased by the cops who killed him. Max comes to her rescue and they both are on the run now as they try to unravel the reasons for the conspiracy between a mayoral candidate, a crime boss and Val's dead ex's attorney dad.
There is also a subplot that will arc over the whole series. Val has been able to have visions of the future since Junior High. She has always considered it a curse as well as a help at times. It seems she has not able to see the future of those she loves before they die, but she has been on occasion able to alter her future in the visions. Max also has the ability to see the future, but he sees it in a series of numbers that he uses in business and he has never been able to alter what he sees. There is a mystery person, who wants these two together no matter the cost.
The plot and subplot are full of great twists and both unfold at a very fast pace. It is a P.I. thriller with psychic abilities in the main characters. Val is a strong female lead character. She was a Sergeant in the Army and then started her own P.I. business with her best friend Stacey. Val will pick herself up and plow ahead through any adversity. Max is super-hot, super-rich and has been severely abused his whole life. He has hidden out in drugs, alcohol and a fast lifestyle until he meets his "Red Raven" vision, Val.
I loved Val and Max and the plot had me reading long into the night. There is a lot of sex throughout, but there is a very unique reason for it. I can't wait to get the next book in this series. Unique and hot!
Thanks very much to Forever (Grand Central Publishing), Net Galley and this author for allowing me to read this eARC in exchange for an honest review.