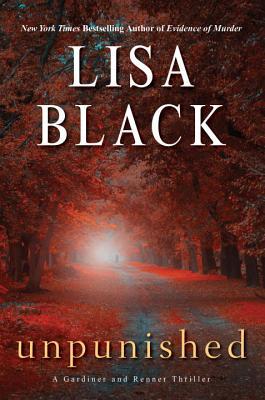 RATING: 5 out of 5 Stars
UNPUNISHED is the second book in Lisa Black's Gardiner and Renner series and it really brings Maggie and Jack into focus as fully developed characters to follow. The plot of this book can be read as a standalone, but the first book "That Darkness" should be read before this to understand the complicated history and stand-off between these two.
Forensic investigator, Maggie Gardiner is called to an apparent suicide of the copy editor of the Cleveland Herald, the struggling daily newspaper. Maggie notices an inconsistency and realizes that this suicide is really murder. Jack and his partner, Riley are assigned the case and already at the scene.
Homicide Detective Jack Renner is a serial killer. If the courts cannot keep the worst of the worst locked up and away from innocent citizens, Jack personally takes care of them —permanently. Maggie is the only one who has been smart enough to figure out his secret. Their truce has held so far, but Maggie still has her doubts about him stopping his personal form of justice.
As another body of a Herald worker is found, Maggie and Jack have to work together to find the killer and figure out what is going on at the Herald.
This book gives a lot of information on the current state of print media in this country. Maggie takes us through the interesting steps of the forensics of the case which I am sure are realistic since that is Ms. Black's specialty. The plot is fast paced and interesting throughout. Ms. Black has really breathed life into Maggie in this book. That was my only problem with the first book in this series and I am very happy with Maggie's character development.
Maggie and Jack are great characters and I am looking forward to many more books in this series!
Thank you very much to Kensington Books and Net Galley for a free eARC of this book in exchange for an honest review. It was great!