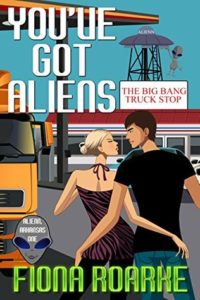 RATING: 5 out of 5 Stars
I loved this story and characters! They are both entertaining, fun and quirky. YOU'VE GOT ALIENS (Alienn, Arkansas Book 1) by Fiona Roarke is a laugh out loud short romance read that I highly recommend. I just finished the first book in this new humorous alien vs. human romance series and I want the next one NOW!
Juliana Masters needs money and accepts a writing assignment from her old college professor. She is to go to nearby Alienn, Arkansas for travel publication, Finders, and find out if the alien sightings at the Big Bang Truck Stop are real.
The Fearless Leader of the Big Bang Truck Stop is Diesel Grey. The oldest of seven children, inherited the leadership of the Truck Stop last year from his father and takes his job very seriously. The Big Bang Truck Stop is located in a small town with fun alien ads everywhere on the surface, but a galactic refueling station and rest stop underneath. When Juliana shows up for an interview, he can't believe how attracted he is to this human, but he has to be careful or all of their covers will be blown and humans will know that aliens have always been here among them.
Besides the cute premise for this story, you just have to love all the clever names, Big Bang Truck Stop, Alienn, Arkansas, Diesel, Axel, Cam, Wheeler, Gage, Jack and Valene. The romance was fun as both Diesel tried to hide his true heritage and Juliana wanted the truth for her article so that she could use the funds to discover her past. The romance was very sweet and the sex was behind closed doors.
The secondary characters were all as entertaining as the H/h. An elderly aunt who wants to raise funds for her retirement home with a wet t-shirt contest. A brother who is head of security and keeps mind zapping Juliana into forgetting what she has learned.
This is a fun story that you just have to read. You will be wanting the next in the series as much as I do. Please write quickly Ms. Roarke!
Written for and posted first on The Romance Reviews.com.