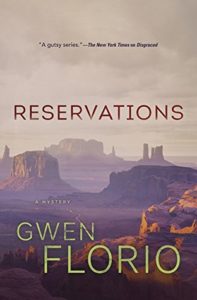 RATING: 5 out of 5 Stars
I love the descriptive writing, plotting and characters of the Lola Wicks mystery series, but this fourth book emotionally wrecked me and yet I had to keep turning the pages and reading late into the night to the end. RESERVATIONS (Lola Wick, #4) by Gwen Florio deserves 5 BIG stars!
Lola hasn't been the same since her last adventure. Charlie decides it is time to take a honeymoon and visit his brother, wife and niece on the Navaho reservation in Arizona. Charlie has a strained relationship with Edgar, but when they arrive there is an underlying tension in the entire family.
There is an eco-terrorist setting off bombs to try to get rid of the main employer, the coal mine on the reservation. The water and air on the mesa has become so polluted, people can no longer live there. Edgar is an executive for the mining company and his wife Naomi is an attorney for the Navaho and hates the mine, but wanted Edgar to work there so that they have inside information on the company. Naomi and Edgar are both Ivy League educated, but returned to help the People and they use this as a way to demean Charlie and Lola.
Lola begins to return to her hard-driving reporter mode as there is another bombing and death. The tension builds and as Charlie seems to side more with his brother and family than Lola, she does everything she can to figure out what is really happening on the reservation, even as the danger escalates for herself and family.
I was so wrapped up in this plot. It is intricate, fast paced and I did not figure out the whole picture on my own. The descriptions in the writing of the Arizona land, with its natural and deadly beauty take you there and make you feel every bit of the heat.
Lola is taken through extreme physical conditions in this story as well as emotional. If you are like me and have a personal stake in your favorite characters, get the tissues ready! This book is a great read on a mystery/thriller level and an emotional roller-coaster for one of my favorite characters. Excellent!
Thank you very much to Midnight Ink and Net Galley for allowing me to read a free eARC of this book in exchange for an honest review. It was my pleasure!