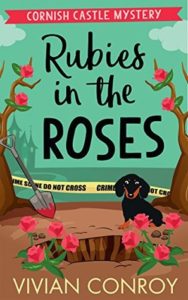 RATING: 5 out of 5 Stars
RUBIES IN THE ROSES (Cornish Castle Mystery, Book 2) by Vivian Conroy is the second cozy mystery in the murderous adventures on Cornisea Island. I fell in love with Guinevere and Dolly in the locked room mystery in the first book, "Death Plays a Part". In this second book, you become more intimately involved with Guinevere's personal life and emotions as she works to solve the new mystery and murder on the tidal island.
As in the first book, Guinevere and her Dachshund Dolly are on Cornisea Island on a working summer break from the theater in London were she is a costume maker. She is helping Lord Bolingbrooke catalogue his vast library in the castle.
Usually Lord Bolingbrooke hides from anyone trying to visit the castle, but he surprises Guinevere by actually greeting Gregory Wadencourt, historian and artifact hunter, when he arrives with his own photographer, Max DeBurgh in tow. Wadencourt has a history with Lord Bolingbrooke, but it is not necessarily friendly. Wadencourt is on the island to find the bejeweled wedding goblet called The Rose and Stars which he believes is hidden on the castle grounds, but he is not the only person claiming rights to the goblet if found.
Several players, new and old, race to figure out the clues to the goblet's location and claim it as their own. When a body is found floating under the small private pier by the castle, the islanders are devastated. Once again Guinevere and Dolly search for clues to bring a murderer to justice, but Oliver is not always by her side on this adventure. Oliver does not like or trust Max, but Max makes Guinevere feel beautiful and needed. She does not know if these feelings are real or if she can trust Max, but she wants to.
I really enjoyed this second trip to Cornisea Island and the visit with Guinevere and Dolly. This cozy mystery draws you in with an intricate plot, interesting characters, emotional motives and red herrings. The goblet mystery and the murder mystery both keep you turning the pages. You get to read more of Guinevere's history as she reveals emotional pain from her past which makes her more realistic and dear to my heart. The secondary characters, whether returning from book one or new to this story, are all fully fleshed and not just caricatures.
This book is a wonderful addition to the series!
Thanks so much to HQ Digital, Net Galley and Vivian Conroy for allowing me to read this eARC for free in exchange for an honest review.
Please continue to follow the blogs and reviews from my fellow book lovers on the blog tour for Rubies In the Roses: