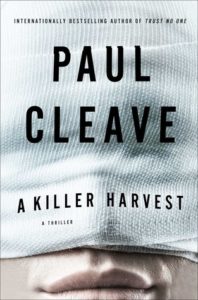 RATING: 5 out of 5 Stars
Paul Cleave is now on my MUST READ list and I feel he should be on every fan of thrillers book shelves, too!
I read "Trust No One" and loved it, so I was very happy to get this ARC of his new book. Now I can add A KILLER HARVEST to this year's list of my favorite books. I am in love with this author's writing, plotting and pacing. When you think you are at the climax or you have everything figured out Mr. Cleave continually throws another plot twist, big or small, into the mix which makes you even more anxious and desperate to continue reading.
Joshua Logan believes he is cursed. He was born blind and lost his biological parents at a young age. He was taken in by his uncle and aunt, who he now calls mom and dad, but he can never take his happiness for granted.
While investigating a suspect believed to be a serial killer, Joshua's detective father is killed. His partner kills the killer, but the curse has struck again. Joshua's dad left a specific request in his will. If he was ever killed, his eyes would go to Joshua for a transplant and a chance at sight. As the donated eyes are transported to Joshua's operating room, there is a mishap and Joshua receives one of his father's eyes and one of the serial killer's eyes which were also taken for donation.
After the surgery, Joshua begins to have strange and disturbing dreams. Sometimes he feels like he is seeing his father's death from his father's perspective and sometimes from the killer's. He is also able to identify people that he has never seen before. As Joshua tries to deal with all the changes in his life, the serial killer's accomplice is out to avenge his friend's death. Joshua and all those close to him are in danger.
You may believe that you know how this will end from the brief summary above and past thriller plots, but in the hands of this author, you are so wrong! I could not stop thinking about this book when I had to put it down and could not wait to get back to it. Mr. Cleave knows how to masterfully take the reader on a journey that makes the unbelievable possible. I definitely need to start working my way through this author's past catalogue. I highly recommend this book to all and especially those who love older Dean Koontz and Stephen King works that take a normal situation and twist it.
Thank you so much to Atria Books and Net Galley for allowing me to read this eARC in exchange for an honest review. It was my pleasure!