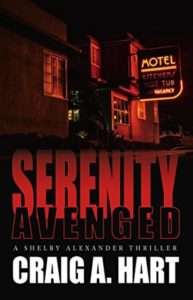 RATING: 5 out of 5 Stars
SERENITY AVENGED (The Shelby Alexander Thriller Series Book 3) by Craig A. Hart places Shelby's pregnant daughter in danger due to his ex-wife's debt to a sadistic crime boss named Darkmore. Ex-boxer and retired fixer Shelby Alexander has once again found himself to be anything but retired and at peace.
When Leslie, Shelby's daughter, goes into early labor he heads out of Serenity and drives down state. When he arrives, Leslie is stable, but his ex-wife has led serious trouble to her door. Due to a hidden gambling problem, Helen borrows money from a loan-shark. When she can't pay, the threats begin and Darkmore sends his nephew after her and uses Shelby's abducted daughter as collateral.
Shelby teams up again with his best-friend, Mack, a retired detective to save Leslie using Helen and Jimmy, Darkmore's nephew as bait. With lots of fire power and Jimmy's inside help Shelby is determined to save Leslie and her unborn child.
I love reading these fast paced thriller stories featuring Shelby, who is not your usual hero. His character is so interesting and well defined. The plot is action packed and suspenseful with a truly terrifying and evil antagonist featured in this book. The dialogue is entertainingly sarcastic at times which smooths some of Shelby's rough edges. This book can be read as a standalone, but the characters grow and interact more in each book, so I recommend reading them in order.
I will be anxiously waiting to read more of Shelby's adventures in the future.