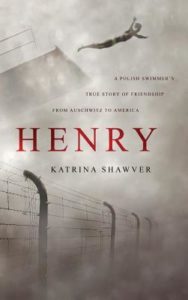 RATING: 5 out of 5 Stars
HENRY: A POLISH SWIMMER'S TRUE STORY OF FRIENDSHIP FROM AUSCHWITZ TO AMERICA by Katrina Shawver is a memoir/biography that had me turning the pages and finishing this memorable read in just two sittings.
Katrina Shawver was trying to come up with a new story for her column in 'The Arizona Republic' when she heard about a former Polish swimming star who survived the death camps of WWII Germany. After her column ran, she knew she had to continue meeting with Henry and tell his entire story. He had an amazing cache of original documents and pictures with stories for them all. This book documents Henry's story in his own words and the author interjects her own research that verifies Henry's stories.
Henry tells his story to Ms. Shawver over many taped meetings. With gallows humor and always a sense of hope, Henry recalls his youth and capture by the Germans as they rounded up all Polish young men after their invasion. Henry was a strong young man who was a champion swimmer and water polo player for the Krakow YMCA team at the time of his arrest. Catholic and a proud Pole, Henry was sent to Auschwitz 1 as a political prisoner.
There are several instances when Henry should have died, but he always seemed to know someone who would find him at just the right time to help him survive. Henry knows he was incredibly lucky. From Auschwitz to Buchenwald, Henry details camp life. Even with all the killing and death, there are stories that sound absurd to the situation, but were small moments to forget where and what they were living through so that they could hope and survive for another day.
I have read many stories of the camps from Jewish survivor stories, but this book is through the eyes of a Polish political prisoner. I learned that they could and did send and receive mail, that there were underground activities ongoing in the camps and that the prisoners were segregated from the Jewish prisoners. Buchenwald held mainly German communists, criminals, Jehovah Witnesses, gypsies and the 1000 political prisoner Poles sent from Auschwitz until almost the end of the war.
Henry survives to live under communist rule in Poland because he returns home to his mother. After she is gone, he and a friend have the chance to escape to freedom in the west and they take it.
You will not be able to resist Henry. He is an ordinary young man who survived and lived an extraordinary life. If you are like me and devour books about WWII, this one should definitely be on your list.
Thanks very much to Koehler Books and Net Galley for allowing me to read this eARC in exchange for an honest review. I could not have enjoyed it more.