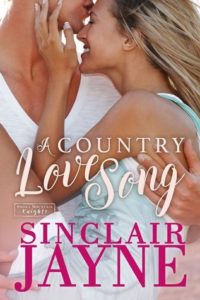 RATING: 4 out of 5 Stars
A COUNTRY LOVE SONG (Smoky Mountain Knights, #1) by Sinclair Jayne is a sweet, second chance contemporary love story. This is the first in a proposed series featuring the Knight sisters from Sweet Tea, Tennessee.
Sutter Knight has finally returned to her hometown after ten years of working hard in Nashville to break into the country music scene. Sutter feels the need to return to her roots and recharge after performing on an awards show and breaking into the top ten on the country music chart. What she discovers is that her beloved theater, where her love of music was born, is about to be demolished for a boutique hotel and the whole youth music program is in jeopardy. The second shock is discovering that the boy she shared her music with and let her go is the architect in charge of the project.
Dawson Yates went north to college after high school to prove to himself and Sweat Tea that he wasn't like all the Yates men before him. He came back to his hometown, established his business, put locals to work, and looks after his younger brother, mother and aunt. What Dawson doesn't expect is for the whirlwind of Sutter Knight to be back in town and ready to fight for the theater. Dawson is willing to work with Sutter and the investors to alter their project, but he is not willing to open his heart only to lose Sutter all over again.
This is a fast paced romance that will keep you turning the pages. The interactions between Sutter and Dawson were so perfect and so aggravating at the same time. These two had their love story interrupted and were set on separate paths after high school, but forgiveness, love and understanding are woven throughout this romance ten years later to right a wrong, or maybe not, from the past. This romance is full of emotions and feelings with no sex involved.
A solid and enjoyable all around sweet contemporary romance. I am looking forward to more of these sisters' stories.
Written for and posted first on The Romance Reviews.com.