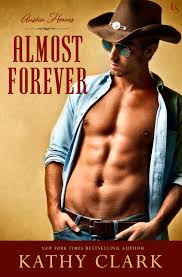 RATING: 4 out of 5 Stars
ALMOST FOREVER is a well written romantic suspense that is the second book of the Austen Heroes book trilogy featuring three brothers who are all in law enforcement. This book is easily read as a standalone.
This story features Justin Archer, who has always been a by-the-book law officer to obtain his dream of becoming a Texas Ranger. He values his job above all else until he has to interview a beautiful, successful widow and mother. His job is to find out if Lori killed her husband eight years ago for control of their winery, but he has an instantaneous chemistry with her that is interfering with his usual professional demeanor. He has to trust his heart over his brain and look for a killer before Lori is blamed and imprisoned.
I enjoyed this story and characters, especially Granny. It is a fast read that covered all the romantic suspense bases of murder, secrets and hot sex. It does not go into new territory but keeps with the basic tenants of a romantic suspense. I am looking forward to reading more from this author.
Thank you to Loveswept-Random House Publishing Group and Net Galley for allowing me to read an eARC in exchange for an honest review.