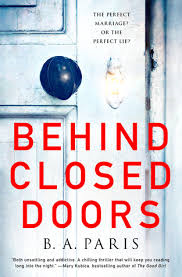 RATING: 5 out of 5 Stars
BEHIND CLOSED DOORS by B.A. Paris is definitely be one of my favorite psychological thrillers this year! I find it hard to believe this came from a debut author. The author had me completely engrossed. I devoured this book in one sitting!
Jack and Grace appear to be the perfect couple. Jack is a successful attorney for domestic abuse victims who has never lost a case. Grace is the gracious hostess, superb cook, talented painter and gardener with green fingers. In the eighteen months they have been married, you never see them apart. The perfect couple or is it only a façade?
Grace tells her story alternating between the Past and the Present. She is a successful buyer for Harrods and has complete responsibility of her younger sister, Millie who has Down's syndrome. Then she meets Jack. She is lonely and he is perfect in every way. He is attentive to both her and Millie. The two come together quickly and Grace soon learns after the marriage that Jack isn't who or what he seemed. She must find a way to get away from him before Millie is due to live with them and he destroys them both.
Every single scene and narrative in this book shows how Grace, or any woman, can become isolated, controlled or abused both physically and mentally. You see the escalation and signs and keep praying for Grace to escape, but Jack is such a controlling and scary psychopath that you don't know how she will do it. Her fear keeps you turning the pages because you just have to know what happens. I also loved that this author did not dismiss Millie as a stereotype.
Intense, psychological thriller is the perfect description of this quick, must read!