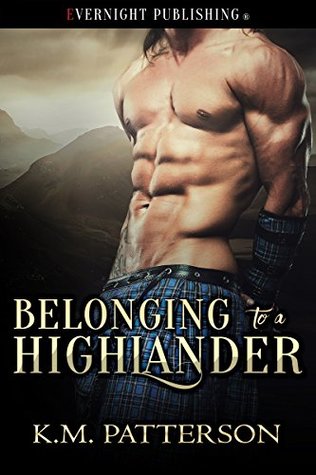 RATING: 4 out of 5 Stars
I so enjoy curling up on the couch on a cold winter day and disappearing into a well written romance. BELONGING TO A HIGHLANDER by K.M. Patterson turned out to be the perfect escape. An alpha Highland Scot and the young impetuous woman willing to stand up to him and lead him on a merry chase.
Hugh McCross has one more debt of honor to fulfill before he can fully leave his life as a mercenary and become the full time laird of his lands. He may not like it, but he feels he must fulfill his debt with anything asked of him by taking an innocent from the cloister to be delivered into the McAlison's hands to settle a blood feud, but there are secrets being withheld.
Catriona McBruiey will do anything to help her friend escape her fate. She pretends to be Tamsin and is taken in her place. She believes it will be of no consequence as she is only a bastard and has no betrothed, even though she is the favorite niece of the king. When the deception is revealed, neither Cat nor Hugh realize the political and deadly ramifications set into motion surrounding both of their lives.
Ms. Patterson has delivered a historical romance with a plot that is very familiar and yet entertaining, scenery and atmosphere that make you feel you are back in historical Scotland, and an H/h that you cheer for to come together for their HEA. The secondary characters were as fully fleshed as Cat and Hugh, good and bad. There are a few steamy sex scenes, but placed where appropriate and not at all gratuitous. This is not a ground breaking new story, but a satisfying historical romance read well worth your time.
Written for and posted first on The Romance Reviews.com.