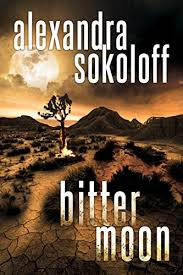 RATING: 5 out of 5 Stars
This is one of my "Must Read" series and I am always anxiously awaiting the next book. BITTER MOON (The Huntress/ FBI Thrillers, #4) does not disappoint! Alexandra Sokoloff has once again written an amazing plot and character study of a victim turned vigilante serial-killer and an obsessed and conflicted FBI agent balanced on the edge.
This fourth book of the series is told in alternating voices between Cara Lindstrom in the Past at age 14 and FBI Agent Matthew Roarke in the Present. In the past, Cara is sent to a group home after release from juvenile prison and as she begins to attend the local high school, she is once again confronted by her visualization and/or conception of evil she calls "It". In the present, Roarke is on leave from his job and is trying to decide who he is and what he wants for his future. A cryptic call from a detective with unknown motives drags Roarke into Cara's past and the still unsolved present day mystery of a sexual predator preying on young girls.
The two plot lines intertwine past and present without being confusing in any way. This in depth look at Cara's past was extremely interesting. It was the turning point in her short life when she decides to no longer be a victim, but to actively seek out and destroy "It" in all its manifestations. Cara is one of my favorite characters. Victim, psychotic, seer, killer, predator. Every scene and situation makes me reconsider my feelings for her.
I recommend this series highly! I also feel this series should be read in order. The character evolution in both main and secondary characters grows with the series. There is graphic violence throughout the series, but I don't feel it is ever gratuitous. Once again, waiting for the next book!