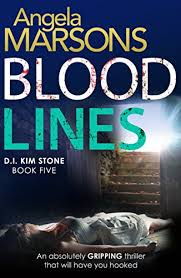 RATING: 5 out of 5 Stars
Brilliant! Thrilling! Suspenseful! Gripping! Intriguing! There are not enough adjectives to describe how I feel about this fifth D. I. Kim Stone book, BLOOD LINES by Angela Marsons. When I think Ms. Marsons has given me everything in a mystery/thriller/British police procedural I could possibly want, she surprises me once again with even more.
Kim and her team start investigating the stabbing death of an apparent carjacking victim, but something just doesn't feel right to Kim and soon they have more victims with the same stab wound, but nothing else to connect them. No evidence at any of the scenes leaves the team struggling.
Adding to the stress of a tough case, the sociopath psychiatrist, Alex Thorne is back and has worked out a plan to eliminate the roadblocks to her release from prison, permanently. Kim barely kept her sanity dealing with Alex in book two and knows that another sparring match may push her over the edge, but she feels she has no choice. Alex has manipulated everyone around her again, even while in prison and Kim needs to figure out her end game and stop her no matter the cost.
The two plot lines intertwine to perfection in this book. The theme runs through both, but I can't say more without giving a spoiler. Even the title is perfect for this book. I feel this book is perfectly plotted and paced. I put it down once only due to work. I would have been compelled to read it through in one sitting otherwise.
The characters are realistic and as in all the previous books, I look forward to what new insights Ms. Marsons will reveal about each. Kim is once again facing psychological implosion from her interactions with Alex Thorne and she also throws in the possible release of her mentally ill mother. Bryant is proving once again to be Kim's rock and best friend besides her partner. Stacey and Dawson also continue to grow into their roles.
This book can be read as a standalone, but to understand the richness of Ms. Marsons' characters, you really should start at book one and read how they grow. I cannot recommend this series enough! This is a must read series for me!
A huge thank you to Bookouture and Net Galley for allowing me to read this eARC in exchange for an honest review. Perfect!