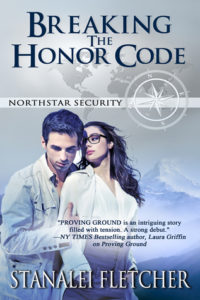 RATING: 4 out of 5 Stars
BREAKING THE HONOR CODE (Northstar Security #4) by Stanalei Fletcher is another entertaining addition to her romantic suspense series. This series gives you stories that are well written and always deliver an action packed page turner.
Allison Richards has been dubbed "the cyborg queen" of the Northstar computer labs. All work and no personal interactions. When she leaves to takes a vacation and go home to Idaho to babysit her nephew, the hacker that has been plaguing Northstar strikes again.
Sloan Cartland is Northstar's profiler. Viewed as a rich playboy, he doesn't try to fight that misconception. When the hacker strikes Northstar again and more damage is done to the company's reputation and cases, his boss sends Sloan to retrieve Allison and bring her back.
Trapped by a blizzard, Allison and Sloan begin to see each other beyond their work personas and sparks begin to fly. But when communications are restored, Sloan is ordered to get Allison to L.A. The evidence is pointing to Allison as the hacker. Sloan now questions all of his feelings for Allison and their attraction, while Allison has to use all of her skills to save herself, her nephew and her reputation.
I really enjoy this series and all of the characters. The books are easy to read with fast paced action and romance. This book has the beginnings of a romance which was sweetly written without any sex scenes. The themes of trust and honor are woven throughout all the characters and storyline. An enjoyable read that can standalone, but the whole series is well worth the read!
Written for and posted first on The Romance Reviews.com.