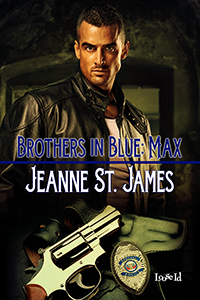 RATING: 5 out of 5 Stars
BROTHERS IN BLUE: MAX (Brothers in Blue #1) by Jeanne St. James is a HOT contemporary romance read that introduces the reader to a rich, immature party girl that has her whole life turned upside down and a small town cop, who is an ex-Marine and all Alpha.
Amanda Barber is a young, rich girl partying all over Miami with her friends and no responsibilities. Suddenly, she has to move to small town PA to live in her dead father and stepmother's home to care for her 22 year old special needs half-brother and his dog. She has never met Greg and Chaos due the messy divorce of her parents and has no idea how to deal with him or his needs.
I did not like Amanda at first, but as the story progresses and you see how she is trying to learn to help Greg and stand on her own two feet for a change, she pulled me to her side. You learn her backstory slowly, and like me, the small town folk did not care for Amanda at first either. She makes mistakes, but you also watch her mature quickly. She wants to go back to her old life at first, but things conspire to make her want to stay more and more as the story progresses.
Max Bryson is a third generation police officer in his hometown and the oldest of three Bryson boys. When he first runs into Amanda, he has trouble believing such an immature girl has been assigned the care of Greg, but even as her attitude chafes, he finds her extremely hot. The back and forth between these two was extremely well written. You can see in each encounter the strength in Amanda continues to grow as she stands up to him and takes control her own life and Greg's. How much Max's attitude changes towards Amanda is also realistically written. The emotional growth of both Amanda and Max is what makes this an engaging romance.
It was great getting to know all the secondary characters in this story, also. Max's loving and stable parents and his teasing younger brothers. Not so nice, but necessary to understand Amanda were her mother and ex-boyfriend from Miami. I am looking forward to reading Marc's story next.
Please Note: Although this is a small town love story it does contain many explicit sex scenes throughout the story. They are well written, integrated into the story and very, very hot!
Written for and posted first on The Romance Reviews.com.