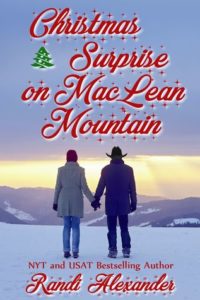 RATING: 5 out of 5 Stars
Not only is this the most emotional Christmas novella I have read this year, it is one of my favorite contemporary romance novellas of this year! CHRISTMAS SURPRISE ON MacLEAN MOUNTAIN by Randi Alexander is a lot of emotion packed into a very few pages.
Doctor Booker MacLean gets a call three days before Christmas from his estranged wife for a meeting. He hardens his heart for what he expects to come, but he is completely unprepared for he finds.
Sybil MacLean knows she made a horrible mistake in not trusting her husband over rumors and leaving seven months ago. She wants him back, but she wants his forgiveness and love, not just acceptance due to her secret.
This is a powerful story of a man raised to be logical and unemotional in his decisions. His pride could be the end of the happiness and love her truly wants. It is also a story of forgiveness and understanding of differences. Ms. Alexander's usual stories are hot and steamy. This novella has no sex and yet is not really sweet because it is so emotionally charged with real feelings and emotions that make the H/h come to life. This HEA had me in tears, in a good way. A beautiful Christmas story good for the whole year!
Written for The Romance Reviews.com.