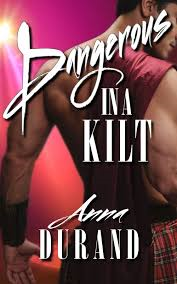 RATING: 5 out of 5 Stars
I FALL FOR A HOT SCOT IN A KILT EVERY TIME!!!
Dangerous In A Kilt by Anna Durand delivered! This is my favorite style of romance writing. A hot, but wounded hero, a heroine who is strong on her own, but also needs the hero and sex that will scorch the sheets without any kinks or fetishes.
Erica Teague was an accountant for a prestigious firm who always played it safe until the day she was arrested for embezzling from her firm's elderly clients' accounts. She has been set up by her ex-lover and boss, who also happens to be the son of one of the owners. She refuses to make any deals, so before she ends up in prison she sets up an internet date for one wild night of sex and fun.
Lachlan MacTaggart is taking an American vacation in the home of his friend who lives right next door to Erica. He shows up at the local hookup club and walks up to Erica, who believes he is her blind date and can't believe her luck. A hot Highlander in a kilt. He won't take advantage of a misunderstanding, but he does propose a one month fling with no attachments to this beautiful American.
Erica wants to experience everything Lachlan can give her before she is imprisoned without explanations and Lachlan wants no attachments and no questions. For two wounded people who discover they care more than they should, emotions just can't be ignored.
This is a well written, classic but contemporary romance story. My emotions were up and down right along with Erica's and Lachlan's. I knew there would be a HEA, but it was the journey, characters and smoking hot sex scenes that kept me turning the pages. The characters were all realistic and I loved Erica's dog, Casey. Lachlan has two brothers and three sisters, so I hope to be enjoying this family in many more stories to come.
Written for and posted first on The Romance Reviews.com.