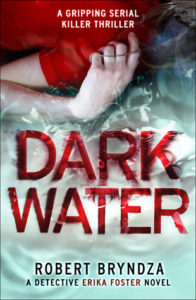 RATING: 5 out of 5 Stars
Once again, Robert Brynzda has me reading late into the night on the edge of my seat!
DCI Erika Foster is back in DARK WATER, the third book in the DCI Erika Foster series. This is one of my favorite British police procedural series. Erika is an amazing character who is flawed, driven, and at times extremely brusque and yet I cannot stop wanting her to succeed in her personal life as well as professional. She also has a great cast of secondary characters surrounding her that are all unique in their own ways.
At the beginning of this story, Erika is in a new district and no longer working murder investigations but instead is working major organized crimes. To put a major drug dealer behind bars, the local quarry is dredged to recover drugs hidden in the depths. The drugs are found, but so is the wrapped skeleton of a child. Erika cannot get the sight of those small bones out of her mind and fights to get the case assigned to her and to have Peterson and Moss moved to be on her team once again. The bones are 26 years old and the case has already destroyed one DCI's career, but Erika and her crew refuse to quit.
This is a complex case with many plot twists and surprises. When you think you have it figured out, it takes a sharp turn in another direction and yet in the end, all the little threads come together in a very satisfying climax. With a fast paced plot and interesting, intriguing characters, Mr. Brynzda has delivered another exceptional addition to this series.
Thanks very much to Bookouture and Net Galley for allowing me to read and review this eARC in exchange for an honest review. This is an excellent book and series!