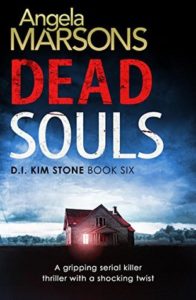 RATING: 5 out of 5 Stars
Most times you read a series because you love the characters and the author gives you interesting, intriguing and/or entertaining plots that keep the characters fresh and growing. Sometimes there may be a book that doesn't move you as much as the others, but you continue to read the series because the characters are like family.
Occasionally you get a book in a series that is a so well done that you know it will live on in your memory because it makes you question basic humanity. No matter the first or the tenth book in the series, you will recommend it to everyone, whether they have read the whole series or not. DEAD SOULS (Detective Kim Stone #6) by Angela Marsons is that book!
During a routine archaeological dig, human bones are unearthed. As Dr. A evaluates the grave site, both Kim and Tom Travis show up to the scene and once again battle over control of the investigation. Ms. Marsons shakes up this book in the series by separating Kim from her regular team. She has been ordered to work alongside Tom, who she has had a troubled past with.
Bryant, Dawson and Stacy are left to work on a series of brutal attacks and work out their own interpersonal relationships without Kim as a boss and referee. The investigations all start to tie together into one connected hate crime conspiracy. When one of the team does some investigating on their own, it leads to dire consequences that start the clock ticking on solving both cases and saving one of their own.
This addition to the series is definitely my favorite to date even with the uncomfortable look into prejudice and hate crimes. Ms. Marsons handled the subject perfectly.  It is especially poignant considering the current climate in society today. In addition to the author bringing together two mysteries separated by over twenty years, this story is rich on character development and backstory. It also could not have had a better title that covers people both literally and figuratively. I give this author and series, especially this book, my highest recommendation!
Thank you very much to Bookouture and Net Galley for allowing me to read this eARC in exchange for an honest review. It was definitely my pleasure!