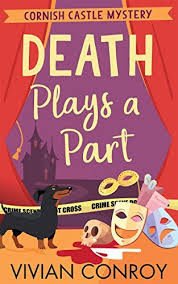 RATING: 5 out of 5 Stars
DEATH PLAYS A PART (Cornish Castle Mystery Book 1) by Vivian Conroy is the first of a new cozy mystery series featuring Guinevere Evans and her adorable dachshund, Dolly. It is a clever locked room cozy set in an old castle on a tidal island off the coast of Cornwall.
Guinevere is a costume designer for a London theater that has to close for renovations over the summer. She receives an offer to work and live at Cornisea castle cataloguing their library. She is excited to have a summer of island adventures with Dolly to tell all of her theater family about in the fall.
When she arrives on Cornisea, she is immediately thrown into the mix of players that are producing a reenactment of the medieval trial of Branok the Cold-hearted. Arthur Haydock is playing Branok and is locked in a cell in the dungeon for the rehearsal and found stabbed to death by the cast. Only Lord Bolingbrooke has a key to the cell, but he swears he is innocent even though he and Haydock were at odds. Guinevere and Dolly, with the help of Oliver, Lord Bolingbrooke's son who has returned after traveling the world, work to uncover all of the players' secrets and motives for wanting Haydock dead.
I enjoyed every aspect of this story. The plot was tightly woven and had me guessing until the end, even though I suspected who was responsible, I could not figure out the "How". The pacing is steady and as you read the story, you are always given some new piece of the puzzle that makes you want to continue on. The setting of the castle and village on the tidal island was vividly described and a unique setting.
Guinevere is a main character that I am looking forward to reading more about. We gets peeks into her past, but some things are still unclear. She is mature and steady even though she is only 24 years old, which could come from being raised by her grandmother and/or being on her own. One thing is certain, she and Dolly are a great pair. Oliver, Lord Bolingbrooke's son, makes an interesting co-sleuth and possibly more in future books? Ms. Conroy portrays the islanders vs. the main landers mentality realistically and shows how it effects the characters' moods and actions.
I am looking forward to more Cornisea adventures with Guinevere and Dolly.
**Please visit all of the Death Plays A Part Blog Tour stops and check out all of the great blogs/reviews for this new book!