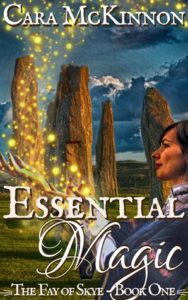 RATING: 4 out of 5 Stars
ESSENTIAL MAGIC (The Fay of Skye Book 1) by Cara McKinnon is an alternate history romance set in a 19th century Victorian England that believes in and practices magic. An American witch is searching for her extended family for training and an English second son is afraid to use his magic since a terrible accident. This series is set around a dynasty of powerful English/Scottish magic wielders and the search for the reason that England is losing its magic.
Etta Mae Cook was raised in Appalachia by a Fay mother and a Choctaw medicine-man father. After her mother's death, she follows her last instructions to return to her distant clan relations in England to train her exceptionally strong powers. It is quite a cultural change from running through the mountains to being in the home of a Marquiness, but Etta is willing to put up with just about anything for the chance to train. What she wasn't expecting was an instant attraction to Mal, the second son of the Marquiness.
Malcolm Seward just wants to run his Scottish lands and forget about magic, but his family has other plans for him. When he meets Etta, there is an awakening of his power that he will fight at all costs and it could be at the cost of losing Etta. When the clan comes together for the birth of his sister's twins, many magically secrets become clear and Mal and Etta will need to work their magic together to triumph.
The author has set a vivid backdrop to this series and the research seems very thorough. The characters are all interesting because they have differing levels of magic and come from different levels of society. The romance was spread at a natural progression throughout the story with some very hot sex scenes. This book does give you a HEA for Mal and Etta, but carries over the overall arc of the search for the reason of the magical drain in England. An entertaining start to a new series.
Written for and posted first on The Romance Reviews.com.