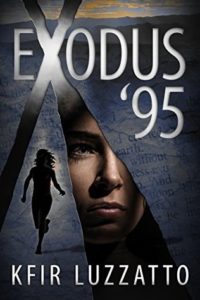 RATING: 3.5 out of 5 Stars
EXODUS '95 by Kfir Luzzatto is a fast paced adventure thriller with a unique character twist and intriguing treasure hunt for Moses' staff.
Claire Williams is a graphic designer that has always had to work hard to survive. When she befriends a dying, elderly man named Jack, she learns he is an ex-KGB agent who claims to have hidden the staff belonging to Moses' from the Bible. He wants to give her the information on where and how to locate it with the hope that she can sell it to get money for a better life, but Jack has his own ulterior motives for giving Claire this information.
Dan Ze'evi is an Israeli engineer who is paired with Claire due to information he has on the location of the staff that he doesn't realize he has in his memory. The two are bribed and blackmailed on their journey by a Russian oligarch who wants the power of the staff. They are also being chased by an Egyptian oligarch, who wants the staff destroyed, not recovered. Dan and Claire are running all over the world as it seems everyone wants the staff for their own reasons. Twist and turns I was not expecting kept popping up and made it a fun adventure that had me continually turning the pages.
The book is an easy read and I am sure you will enjoy the world-wide adventure if you can suspend realistic belief at times, which I don't mind doing. I gave it the 3.5 star rating and would have liked to have given it more, but I felt the characters, except for Dan Ze'evi were two dimensional and stereotypical. The unique character twist belongs to Claire, but I can't say more without it being a spoiler. Even with this twist, I just could never warm to her character. I also felt the romance was forced and unbelievable. The plot is full of potential, unique and is a fun adventure read.
Thank you to PINE TEN  and Net Galley for allowing me to read this eARC in exchange for and honest review.