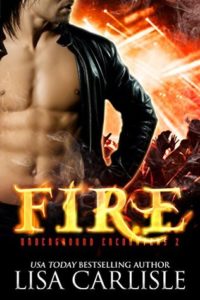 RATING: 4 out of 5 Stars
FIRE (Underground Encounters Book 2) by Lisa Carlisle is HOT!
I am very glad I continued on in this paranormal romance series, even though the first novella in the series had a few problems for me. This story begins a year after the fire at Vamps and follows Maya. It can easily be read as a standalone, even though it does bring characters from the first novella back.
Maya Winters is missing her best friend and decides Halloween is the perfect time to return to Vamps and blow off some steam dancing after a long shift working as a firefighter. As she is dancing away to her favorite tunes, she suddenly feels eyes on her. When she sees the tall, dark and brooding bad boy staring at her she feels an instant attraction.
Tristan Stone is the new, mysterious owner of the rebuilt Vamps. Tristan is from a long line of Salem witches. He stays away from people due to what he considers his curse, because he has only ever been able to see darkness around people and it drains him. When he comes up from his underground lab beneath the club one day to check on things, he immediately spots a woman dancing because of the brilliant light surrounding her. This has never happened before and he has to find out why she is different.
Maya and Tristan combust when they are together. The two opposites are light to dark and outgoing to cautious. Tristan thinks Maya may be the answer to his curse, but he has never told anyone about it outside of his family. Maya is harboring a secret of her own that she has never shared. The sex is hot, but can a relationship with secrets last?
Maya and Tristan are main characters that are perfect together. Ms. Carlisle has given these characters depth that is as fun and entertaining as it is serious. The sex scenes bring the fire and heat. With the return of Nike and Michel, I cannot wait to see what happens next in this series!
Written for and posted first on The Romance Reviews.com.