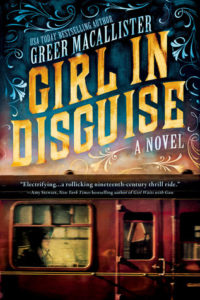 RATING: 4 out of 5 Stars
GIRL IN DISGUISE by Greer Macallister is a historical fiction book based on the life of Kate Warne, the first female Pinkerton agent. I always love to read about the "first" females in any role and this being the first detective agency in the U.S. made it sound even more interesting. Kate's story is perfectly suited to be told in as a historical fiction due to the fact that a lot of the actual paperwork from her time in the Pinkerton agency went up in flames the Chicago Fire of 1871.
Kate was the daughter of traveling actors, who were also con-artists. She was forced into a loveless marriage that ended with her becoming a young widow and unable to have children. She is out of money with no job prospects and answers the ad for Pinkerton agents. There is always a sadness and aloneness about her, but her life has given her the basic skills to become a great detective. Pinkerton takes her on and not only does she become one of Pinkerton's top agents, she also heads up the Female Detective division for him.
The author has written the adventures of a complicated woman, her relationship with Pinkerton himself and her interactions with the other agents in his employ. I felt the characters were all true to their time period and the situations could have happened just as written. This is a story that was very well told.
Thanks very much to Sourcebooks Landmark and Net Galley for allowing me to read this eARC in exchange for an honest review.