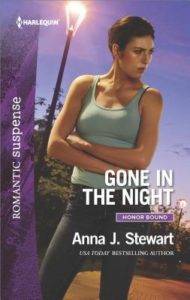 RATING: 5 out of 5 Stars
GONE IN THE NIGHT (Honor Bound #3) by Anna J. Stewart is the 5 STAR conclusion to the Honor Bound trilogy. This entire romantic suspense trilogy is a roller coaster ride that is packed with strong, but emotionally vulnerable heroes to swoon over and heroines that are wounded and yet at the top of their professions and know how to kick butt. Book three is the conclusion to the overall story-line arc that tied this trilogy together. I believe these books should be read in order.
Allie Hollister is a psychologist who is one of three friends who are all still haunted by the unsolved death of their childhood best friend, Chloe. The past seems to have invaded her present with the kidnapping of one of Allie's patients, Holly Kellan, who is almost a twin to her friend who was killed 20 years earlier. As the friends work the abduction of Holly, it seems to mirror their cold case and the two cases start to converge.
Max Kellan was a firefighter who has moved to Sacramento to help with his niece, Holly as his brother goes through a contentious divorce. When the police, FBI and Allie appear on his brother's doorstep, Max knows something is terribly wrong, but he also realizes he is not getting the whole truth from the law or Allie.
Max and Allie search for Holly and try to piece everything together from both the current kidnapping and the cold case with all the friends from the previous two books. Allie cannot believe the timing as she finally is starting to be attracted to Max. Max, for all his anger and mistrust of mental health doctors is only calm and focused with Allie around. These two come together in a slow burn that intensifies throughout the book, but will it last?
Allie projects a calm even cold analytical exterior that hides her fear and yet she can physically fight like a SEAL. Max is a ball of anger since what happened to make him leave firefighting. Yet the two of them find a way to get through to each other and the banter is light, fun and sexy, even in their stressful situation. I loved these two together, the friendship of all the women carried throughout all three books and the fast paced plots.
I highly recommend this trilogy! I will be looking for more Anna J. Stewart romantic suspense books in the future.
Written for and posted first on The Romance Reviews.com.