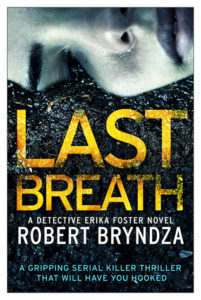 RATING: 5 out of 5 Stars
Robert Brynzda and his amazing character, DCI Erika Foster, have given me a gripping and thrilling, British police procedural read once again! This fourth book is even stronger than the first and just as additive.
LAST BREATH (Detective Erika Foster, #4) starts off with a beautiful young girl found dead in a dumpster in London. Erika is with Peterson when he gets the call and decides to ride along to the scene. She wants in on the case, but her nemesis Stark is now Superintendent of the Murder Investigative Team and sends her on her way.
Erika is on desk duty, which she hates, but she just cannot keep her mouth silent when dealing with superiors. As she languishes, she applies to return to the Murder Investigative Team, but it does not look good until there is a medical emergency and she gets her chance to once again lead her previous team of detectives. With all of her experience, Erika connects this case to a previous unsolved case. As a third girl is reported missing, it becomes apparent that the team is chasing a serial killer who seems to disappear leaving no clues.
The killer is unveiled early on in this book by Mr. Brynzda. We get to look into his mind and life as Erika and her team try to stop him. It adds nail-biting tension as we watch him kidnap another victim and he begins to devolve with Erika and her team on his trail.
Erika is so complex, hard on the outside, but vulnerable. Her character has had to deal with loss, guilt, and moving forward emotionally while dealing with her ups and downs on the police force. The secondary characters all have unique personalities that add depth to each book. The fast paced plot keeps you reading and turning the pages. This is a series that I feel needs to be read in order and since it is on book #4, you better get busy!
Thank you very much to Bookouture and Net Galley for allowing me to read this eARC in exchange for an honest review. It was completely my pleasure!