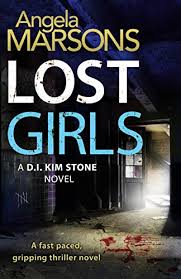 RATING: 5 out of 5 Stars
I so love this author and series! Angela Marsons writes stories that pull you in, take you on a roller coaster ride of emotions and then leaves you with a satisfaction of justice served, but a hunger for the next story.
Lost Girls is the third book in the D.I. Kim Stone series and is about a subject that terrifies all parents, the abduction of their child. This plot is even more twisted because the kidnappers always take two girls and tell the parents that the couple that pays the most will get their daughter back and the other daughter will be killed. This is the second time this crime has been committed, and now D.I. Kim Stone and her team are assigned to the case. The clock is ticking.
Ms. Marsons knows how to write an English police procedural that is also thrilling and suspenseful. The plot has many twists and turns. Kim Stone is a brilliant character that tugs at your heart, but don't tell her, she wouldn't like it. Her team is a group of varied and well written characters. The criminals are as well written as the main characters, which makes them all the more chilling.
If you haven't read this series yet you are truly missing out on great books!