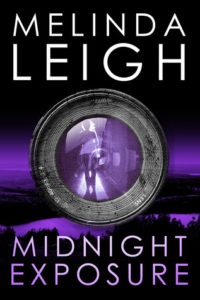 RATING: 3.5 out of 5 Stars
I started this suspense series, Midnight Exposure (Midnight, #1) by Melinda Leigh, because I really enjoy her Scarlet Falls series. (Check them out!)
Jayne Sullivan makes her money as a photographer and occasionally for the big money as a tabloid photographer. She is sent to Maine in December to find and photograph the reclusive sculptor R.S. Morgan. She hates being deceitful, but she needs the money to help her brothers with the family bar in Philly and medical bills for her youngest brother. She is glad to be away from Philly at the moment also, to get away from a stalker who attacked her and has gone to prison, but he is out and had promised to come for her again.
At the address her editor gave her she meets Reed Kimball. Reed had moved to Maine with his son after the death of his wife. He was a homicide detective in his old life, but now acts as a handyman around town and has a secret in his barn turned work shed out behind his home. He hides his true identity from all, but the police chief in town. Jayne does not know the connection between Reed and R.S. Morgan and before she can find out she is abducted. She escapes on her own in a blizzard. Reed finds her and takes her to his home.
Both Reed and Jayne are hiding secrets and motives, but they can't help but continually be attracted to each other. As the sexual tension increases, so does the threat to Jayne from an unknown source which could prove to be deadly.
This was a fast paced and exciting read in the first chapter and then again after a few. I just felt it bogged down for a while after the first chapter. I also had a problem with how long it took Reed to tell Jayne about his past. He was reclusive over something that he was proved innocent of doing and after a new scandal comes along, I think the media would have left him and his son alone. He did not even stay in the same town, he moved far away.
The Celtic druid facts were interesting and so was the reason for the killings. I do not understand why the other family member was involved though. I do not understand how he could believe a madman. It was a stretch for me. That said, I still like Ms. Leigh's writing style and will continue on with this series. Not a bad book, but just not my favorite by this author.