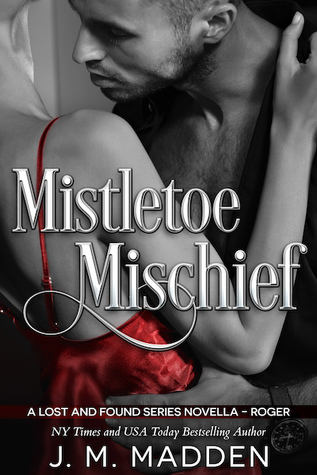 RATING: 5 out of 5 Stars
Once again I am in tears over the men of Lost N Found! In only one short novella and two very short stories I had to grab the tissues three times. Oh, and they were heartfelt, happy tears!
MISTLTOE MISCHIEF (Lost and Found, #5.5) by J.M. Madden is worth every minute. I rarely give a novella more than 4 stars because they are just too short to either satisfy you emotionally or have a strong enough story to tell to stand on its own. These stories are those rare exceptions and worth a full 5 stars. Ms. Madden knows how to bring these wounded warriors to life and to match them to their perfect mates.
Roger just cannot believe the vision of a woman that he is set up with as a blind-date for the LNF Christmas Eve party. She doesn't seem to be bothered by his scars and prosthetic arm. Cassandra is a plus-sized woman, who has pulled herself out of poverty to become a graphic designer, but still has body image problems and no luck with good men. At first, she has a hard time believing the flattering things Roger says to her. Instantly though it becomes apparent that they both can be what the other wants and needs if they are willing to believe.
The next story revisits Gabe and Julie and the continuing struggle for Gabe to be more present in the now and remember, but let go of his time with his SEAL team. Time seems to be helping with them.
The last story revisits Zeke, Ember and little Drew. Their first Christmas together and everything is moving along, but Zeke is still hesitant about his scarred face until his run in with another student from Drew's school.
I love all of the LNF guys so much and all I want is happiness for them all, but that J.M. has to put them through their paces to get it. This is one of my favorite series and group of true heroes. I highly recommend all of these books!