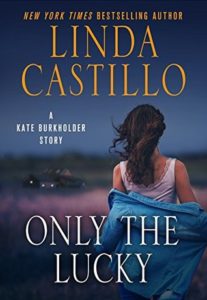 RATING: 4 out of 5 Stars
ONLY THE LUCKY (Kate Burkholder, #8.5) by Linda Castillo is a novella that lets you return to Painters Mill for a short period of time between full length novels and reconnect with the characters you love in this series.
It is Friday the 13th in Painters Mill and even though Chief of Police Kate Burkholder does not believe in superstitions the problems just keep on coming. Kate learns of a huge outdoor 'rager' on an abandoned farm, the town is having a complete power outage until morning and the department receives a 911 call about an unresponsive Amish teen found by her boyfriend in the barn at the party.
This novella is only 56 pages long. It is an entertaining story that assumes you are already familiar with the main series characters. The crime was easily solved, but still a good read. I will always pick up a novella or book by this author in this series to check out how my favorite characters are doing.