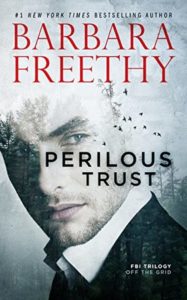 RATING: 4.5 out of 5 Stars
PERILOUS TRUST (Off the Grid: FBI Trilogy #1) by Barbara Freethy is an exciting start to a new romantic suspense series. This is a fast paced story loaded with action, suspense and romance. Each book features one of five friends who formed a secret group while in Quantico with the promise to always help the others.
Sophie Parker is an archeology instructor at NYU, who receives the devastating news that her father was killed in a car crash. Her father was the head of the Organized Crime Unit in the NY FBI field office. When she gets a chance to check her phone, she listens to her father's last frantic and cryptic messages with instructions she must follow and to not trust anyone including his fellow FBI agents.
FBI agent Damon Wolfe cannot believe what he is hearing. His mentor and reason for being in the NY FBI office is dead and his daughter is missing. Four years ago, Damon and Sophie came together for one night of solace and life-affirming passion over the death of a mutual friend. They never contacted each other again, but now Damon knows he has to find Sophie and help her.
Sophie does not know if she can trust Damon, but as the bullets start flying, they flee together to follow Sophie's father's clues and hopefully solve his murder and eliminate the threat to Sophie's life.
The plot is an intricate puzzle and has a lot of players that need to be kept straight. Besides Damon and Sophie, you are introduced to Bree and Wyatt, who are members of the five from Quantico. Sophie's father had a lifetime group of friends from Yale that may be involved in his death and his job as head of the Organized Crime Unit also brought in several players. Keeping everyone straight was my only problem while reading this book. Other than that, it was a surprise for me when all the pieces where discovered.
Damon and Sophie's chemistry was intense and pretty much instantaneous from their one-night-stand four years ago. While on the run, they get to know more about each other's pasts and families. It brings them closer and their relationship builds from there. The sex is hot, but not explicit and well balanced with the feelings of loss and fear during other parts of the story.
I am looking forward to reading the rest of this series and getting to know more about the other friends from Quantico.