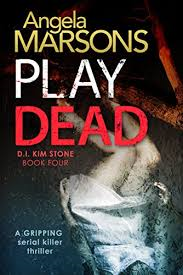 RATING: 5 out of 5 Stars
Play Dead is Angela Marsons' fourth book in the D.I. Kim Stone series. This series just keeps getting better and better, which is amazing because it started out great!
The main setting of this book is a 'body farm' and who, but Kim Stone could find a corpse that doesn't belong? When a second body is found with the same injuries, but not quite dead, Kim knows she and her team have a serial killer to stop. As they try to connect the victims, reporter Tracy Frost drops a cold case in Kim's lap that she knows the Inspector will be intrigued by and want to solve because Kim feels she must always find the identity of victims of crime. What Tracy fails to tell Kim is that she knows the victims of her 'body farm' case and when she goes missing, Kim knows she has a limited amount of time to find her alive.
The mystery/thriller plot and subplot both have several twists and tie together in a surprising climax that had me guessing until the reveal. There are a lot of interesting forensic facts and information involved in this book. All of the characters are very well developed and three dimensional from Kim and her team to all of the bad guys. Kim and Tracy both have more of their back stories revealed, which leads to more understanding of their characters and how they became the way they are now.
This series is a must read for me! I always want more of Kim and her team.
Thank you very much to Bookouture and Net Galley for allowing me to read this eARC in exchange for an honest review. I love this series!