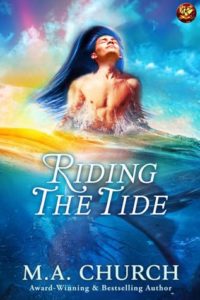 RATING: 4 out of 5 Stars
RIDING THE TIDE (The Deep Blue Sea #2) by M.A. Church is an entertaining paranormal romance read. It is a short, fast read that at times had me laughing out loud. The world-building is an interesting twist on mermaids and mermen. This book in the series features two mermen and does contain scenes of M/M sex.
Marcus Krill is a warrior creature of the sea and wants nothing to do with a mate. Humans are a diversion and only good for hook-ups, until one day as he watches a man fall overboard in the waters he patrols, the most intriguing and beautiful smell ever flows to him. Against all the rules, he saves the human even though it reveals his true nature which is kept hidden from humans.
Brian Estes is alone in the world after the death of his grandmother and has the money to travel and explore the world. He is rich, but lonely. He never knows if the men he is attracted to are attracted to him or his money. When he lands in the sea and is rescued by a merman, he cannot believe what is right before him. Excitement and interest turns to fear and flight when he finds out he is a 'mate', but he can't stay away.
The main characters have completely opposite expectations and yet they learn that their love is more important and compromise is the key for their HEA. Both have sarcastic senses of humor and are very entertaining. An enjoyable paranormal romance read.
Written for and posted first on The Romance Reviews.com.