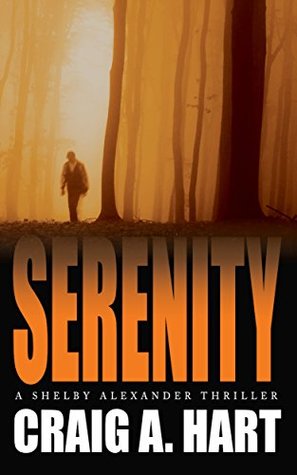 RATING: 5 out of 5 Stars
Serenity turns out to be anything but serene for Shelby Alexander.
This is the first book in The Shelby Alexander Thriller Series and I can't wait for the next! Shelby is an ex-boxer and a former fixer, who has retired to his old hometown of Serenity, Michigan. All he wants is a little peace and what he gets is a young woman who dies in his arms and a drug war in his backyard between the local Ellis family who have always been in trouble with the law and a new group trying to take over from Detroit.
This thriller takes off right from the start. It is extremely fast paced and full of action for its short length. In between the bullets flying, you get to know Shelby and a great cast of memorable secondary characters. Shelby has a bartender girlfriend, Carly, who is 30 years younger and the same age as his daughter. He has a long-time friend, Jerry "Mack" McIntyre, who is a retired Detroit policeman. Jerry's wife, Gloria is best friends with Shelby's ex-wife, Helen. The Ellis clan is savage and the local sheriff is questionable.
Craig A. Hart has written a debut to this series that satisfies on every level! Action packed, a cast of characters that are colorful and three dimensional, a unique setting, and a protagonist that I want to continue to follow.
Thank you very much Mr. Hart for allowing me to read an eARC of this book for free for an honest review! I can't wait for more from Shelby!