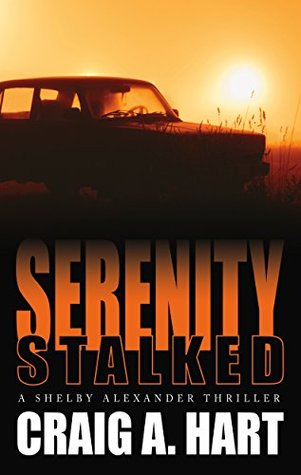 RATING: 5 out of 5 Stars
Another fast paced thriller featuring Shelby Alexander from Craig A. Hart. Yes, please!
SERENITY STALKED (The Shelby Alexander Thriller Series Book 2) has everything you want in an action packed, short, intense and tightly plotted thriller. In this second book, a serial killer has made his way to small town Serenity to make an anonymous kill and move on, until he sees Carly.
Shelby's girlfriend, Carly asks him to deliver a message to an ex-boyfriend to quit texting her. The message is delivered, but then the ex-boyfriend, his wife and baby are all found murdered the next day. Shelby is seen leaving the home and an anonymous caller tells Sheriff Wilkes he can find the knife that killed them in Shelby's storage shed. Since no love is lost between these two, Wilkes is ready to lock Shelby up.
True crime writer, Quinn Edwards warns Shelby of his impending arrest and tells him to get lost and she will help with the case. Believe her or not, Shelby goes, but Carly won't leave with him and this is just what the killer is waiting for.
This is a quick read that you will want to finish in one sitting. As with Mr. Hart's first Shelby book, all of the characters are fully fleshed. Shelby is a great lead character with wisdom, strength he has realized is changing with his age and his own moral code. I am looking forward to many more adventures featuring Shelby.