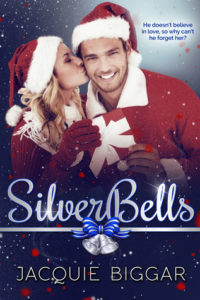 RATING: 4 out of 5 Stars
SILVER BELLS: A Holiday Romance by Jacquie Biggar is a holiday novella that was sweet and easily read in one sitting curled up on the couch while the weather outside is frightful.
Joel Campbell, award winning mystery writer, has moved from Scotland to Vancover Island. He wants to be closer to his grandmother and hopes the change will get him over his writers' block. Hating his fame, he has walled off his heart, become gruff and hates anyone interrupting him and yet, he is lonely.
Christy Taylor is an artist who has started her own shop attached to her rented home. Her life cannot be more hectic. She is attempting to grow her clientele, while caring for her small daughter, Jill, who has been diagnosed with Type 1, Juvenile diabetes. Christy is a great mother, but her divorce and her ex's attitude toward their daughter has made her distrustful of any help from any man.
These two need to open up their hearts and learn to trust again before it is too late.
This novella is an enjoyable and quick read. I loved the characters in this short read, but being short, I felt some of the character development was lost. Jill was adorable and her disease was handled extremely well. I also feel this novella was not really a Christmas or holiday story, just a winter setting.  That said, still a good heartfelt novella for a cold winter day.