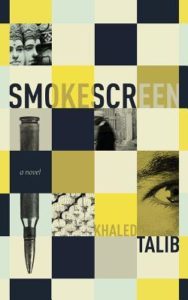 RATING: 5 out of 5 Stars
SMOKESCREEN by Khaled Talib is a fast-paced political espionage thriller set on the beautiful island of Singapore that has you second guessing every characters' motives and actions as you race to the climax and conclusion. Smokescreen is also an apt title for this debut novel.
Jethro Westrope, also known as Jet West, is a feature writer for Singapore's leading lifestyle magazine, Society. He leads a very public and pampered life which makes him an easy scapegoat in a high stakes political assassination plot. The Israelis and Palestinians are brokering for a permanent peace in Singapore and Jet is to be used as a pawn and framed as the assassin of the Israeli Prime Minister. The plot has major worldwide political ramifications that not only effect the two major players, but also the U.S. and Singapore.
Jet is pulled into the twisted plot when he is framed for the murder of a beautiful woman who tried to warn him of what was planned. As he tries to clear his name and find out who is responsible, Jet seeks the help of Nicole Wong, a senior prosecutor on the island and also a friend of the murdered girl. Neither knows who they can believe or completely trust as they weave through a twisted web of spies, double agents, and patriots to get to the truth and clear Jet's name.
This thriller was tightly plotted with action, several dead bodies, revelations of deceit and twists that I can't reveal due to spoilers throughout. You have to keep close tabs on all the players and their motives. The politics are thought provoking and the author handles the information sparingly with no preaching or information dump. Jet is an interesting and sympathetic lead character. The other characters are all well fleshed out and intriguing as you try to figure out if they are 'good' or 'bad'.
This is a debut thriller that delivers and will have you coming back for more from this author!