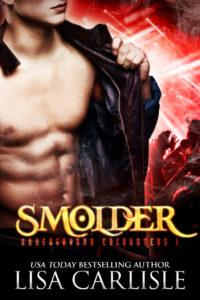 RATING: 3 out of 5 Stars
SMOLDER by Lisa Carlisle is the revised novella start to her Underground Encounters paranormal romance series which was originally released in 2012 as Smoldering Nights. I love Ms. Carlisle's various series, but this novella still lacks the depth of character and originality I look for in her books.
Nike is a firefighter who loves to let off steam with her best friend, Maya on the dance floor of Vamps, the local goth night club. On one of their nights at the club, she sees the man she has a crush on from her rock climbing gym. He has a French accent, a gorgeous body and beautiful eyes. She cannot believe her luck when Michel asks her up to accompany him to a private room upstairs, but she is about to get an education in other creatures that coexist with mortals.
Michel is a nightwalker. He does not know what draws him to Nike at the club or the gym and he knows he should not get involved with a mortal, but he finds her irresistible. When he gets Nike to agree to accompany up to the private rooms, they are attacked by an old enemy right when things begin to get interesting.
Michel and Nike go on the run. The attraction is too much to resist and they begin to explore their sexual attraction and also begin to wonder if it could become more. Can they have a future or will Michel's enemy find them once again and destroy them both?
This novella was a very quick read and a good introduction to the Underground Encounters series. Nike is a strong heroine who can stand on her own which I loved. Michel is sexy and a dream, even with the fangs. There just was not enough depth to the characters due to the shortness of the story, it was very predictable and it ended abruptly. If you have not started this series, it is a fun intro and the sex scenes are steamy, hot and well written.
Written for and posted first on The Romance Reviews.com.