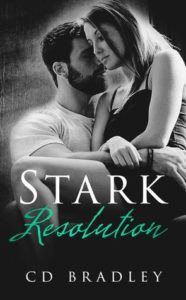 RATING: 5 out of 5 Stars
STARK RESOLUTION by C.D. Bradley gave me the resolution I was looking for from this trilogy, but the path taken was not in any way what I was expecting. It is an emotional powerhouse written in a way that lets you have a window into the depths of a wounded warrior's mind.
This book starts with both, Kira and Stark, waking up in Walter Reed Medical Facility. Both are facing difficult recoveries in differing ways. (Sorry, can't give you more without spoiling a major plot twist and major scenes.)
When they come together again, the pieces of the overall suspense portion of this trilogy become transparent. Kira, Stark and all of their friends we have been introduced to along the way in books 1 and 2 work to stop what could be a potentially devastating biological weapon.
This trilogy is not at all what I was expecting and yet it turned into one of my all-time favorites with strong characters that I will always remember. I thought the cliffhangers at the end of books 1 and 2 were the most devastating emotional twists this author could throw at me until I got into the meat of this third book in the trilogy. C.D. Bradley takes some specific problems that our veterans' face and writes from the heart of the veteran's viewpoint with powerful emotional realism.
When I started this trilogy, I thought I was just getting a well written erotic military series that I would read and enjoy the sex scenes and try to figure out the suspense subplot on the side. This trilogy is so much MORE!
I cannot recommend this trilogy enough. C.D. Bradley's writing is captivating, intense and emotional from page one.
Written for and posted first on The Romance Reviews.com.