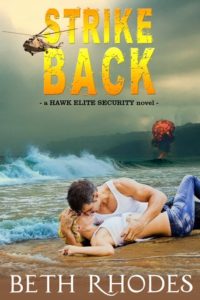 RATING: 5 out of 5 Stars
I absolutely love reading a new to me author and the first book in her romantic suspense series blows me away! Beth Rhodes writes like a much more seasoned author with a perfect balance of romance and suspense. STRIKE BACK (A Hawk Elite Security Novel-Book One) features a couple who have been married for 20 years, which makes the romance unique. The suspense is fast paced and well plotted throughout.
Nathan Hawkins is a former Marine and co-owner with his wife, Stacy Hawkins, of Hawk Elite Security. When the story starts Nathan and Stacy are trying to vacation and reconnect in their favorite resort in Belize. Both are dealing privately with things they should be sharing. Hawk is going blind from an old brain injury and thinks Stacy would be better off without him and Stacy has been working hard to get back in-shape after raising their kids and wants to return to some field work.
As their personal lives are in turmoil, and Hawk has to leave for a short side trip, Stacy is befriended by Michael Richards. He is charming and attentive to the lonely Stacy, but he is not who or what he seems. A haunting case from Hawk's past is coming back for revenge. Hawk is dealing with his loss of sight, Stacy is trying to prove her competence and they both need to have each other's backs for what lies ahead.
These characters are so realistic. Hawk has always been a leader and protector and the sight issue makes him go through all possible emotions. Stacy loves being a mom and wife, but she wants to be out from behind a desk and in the field with Hawk. All the highs and lows are covered and these two work on their relationship. They both realize they are better together than apart. All the secondary characters in Hawk Security are just as interesting and hopefully will find their own matches in books to come.
Strike Back gives you a great realistic mature romance, exotic locales and a revenge suspense plot that keeps you turning the pages. I am really looking forward to reading more in this series!
Written for and posted first on The Romance Reviews.com.