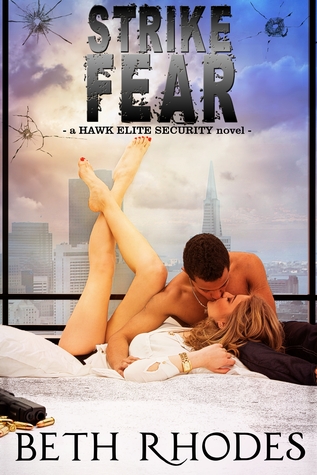 RATING: 4 out of 5 Stars
I have anticipated reading STRIKE FEAR (Hawk Elite Security Book 2) by Beth Rhodes after having read and reviewed Strike Back, the first book in this series.
Tancredo "Tan" Byrne has been made head of the new Personal Safety Department for Hawk Elite Security. He enjoys the excitement of the overseas operations, but he feels he has to stay close to what is left of his family. Growing up poor, the service saved him from the streets, but his mother has always had substance abuse problems, his brother committed suicide in prison and his sister is autistic and mainly left on her own. Not many know of his family's past and current problems and he wants to keep it that way.
When Tan is hired by Elizabeth's father to make sure Elizabeth knows how to stay safe and to continue her personal security training, he feels it will be an easy job since she was a world class athlete. He feels she is a spoiled, rich princess that has been given everything until he spends more time with her and starts to realize his mistake.
Elizabeth "Liz" Whitney was a world champion skater until she was attacked. It took a year of healing and rehab to get back on her feet, but the fear has always remained. It is a daily effort to live on her own and get her skate costume design business going. She has refused help from family and makes sure Tan realizes her accomplishments have been hard earned on her own.
What starts as a training assignment turns into the need for a personal bodyguard when Liz is attacked and she resembles the victims of a killer on the loose. There are plenty of suspects and until the killer is caught, Liz is in constant danger.
I enjoyed this installment to the Hawk Elite Security series. It is a typical bodyguard romantic suspense story that while having no new twists, was well written. I was impressed that Ms. Rhodes included instances of racial prejudice that most interracial stories avoid. There is a lot of sexual tension between Tan and Liz as he fights to maintain his distance, but when they do get together, the sex scenes are hot and steamy. A very satisfying addition to the series.
Written for and posted first on The Romance Reviews.com.