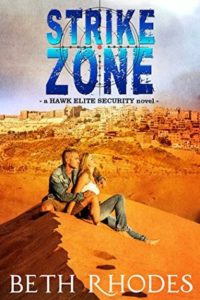 RATING: 5 out of 5 Stars
Once again, Beth Rhodes and her Hawk Elite Security series had me reading well into the wee hours to finish her latest fast-paced romantic suspense addition! STRIKE ZONE (Hawk Elite Security #3) hit all the right buttons for me; a great hero and heroine, action, adventure, a plot with surprises and a romance that was intense with not one sex scene.
Emily Rogers is one of the best sharpshooters in the agency and is on an assignment in Brussels. Because she is so busy up until her best friend's wedding, her best friend and fiancé come to Brussels to visit and finalize wedding plans. Tragedy strikes in the form of a terrorist bombing at their hotel and Emily vows revenge.
One year later, Emily is on the verge of getting her revenge. Ahmed Hassan is in Qatar and she has received the 'kill order'. Just as Emily takes the shot, a child jumps into Hassan's arms and is killed rather than her target. This emotionally destroys Emily and she walks away from her job and profession.
Two years pass and John Vega has been sent by Hawkins to find and recruit Emily as a sharpshooter for Hawk Security. John knows Emily's history because he was there in Qatar after the failed mission and he saw her devastation in her eyes from across a room before she left to go back to the states. He has never forgotten her and he is determined to get her to join the Hawk Security family and get to know her and work with her personally.
The chemistry between these two is so hot! John comes from a large Catholic family and does not believe in sleeping with someone before a serious commitment. Emily respects his beliefs, but is not ready to let down her walls and allow someone in. The back and forth dance of emotions is realistic and intense. Real romance with no sex scenes as they work out their differences. The plot has everything. Fast-paced action from the beginning that never lets up. Adventures in the U.S. and Middle East. Traitors, revenge and a plot twist that makes this more than a formula revenge story.
This is a great addition to the series and I will be looking for many more to come!
Written for and posted first on The Romance Reviews.com.