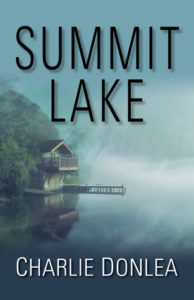 RATING: 4 out of 5 Stars
(I reviewed this book last year. I am adding this previously posted review since I am currently reading Mr. Donlea's second mystery novel The Girl Who Was Taken. I wanted both reviews on my website.)
SUMMIT LAKE by Charlie Donlea is a debut mystery that keeps you turning the pages.
The setting is a small town in the beautiful Blue Ridge Mountains of North Carolina. The story is told by two narrators; Kelsey Castle, a true crime journalist, in the present investigating the savage murder and rape of Becca Eckersley and with Becca, a first year law student, telling her own story before her death threaded in between. Both women have secrets that become revealed in bits and pieces throughout the story in tantalizing increments and there are plenty of twists and turns that surprise.
I found all of the characters to be interesting and well fleshed out. The pace of the story is fast and has several twists and surprises. I did have a small problem with the lack of law enforcement involvement and the way Kelsey obtained some of her information just would not realistically happen. The reveal of the killer was truly unexpected and made for a big surprise. Well worth the read and I will be looking for more from this author.