---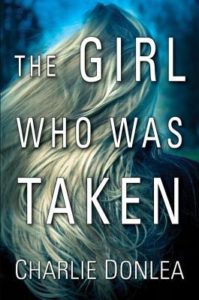 RATING: 5 out of 5 Stars
I have seriously been blown away by this book. I enjoyed Summit Lake by this author, but this story was even better.
THE GIRL WHO WAS TAKEN by Charlie Donlea had me tangled up in plot twists and turns that left me completely surprised at the climax of the plot. I knew the answer, no I didn't. I knew the answer, no I didn't. I could NOT put this book down!
The majority of the story is told in the present with Livia Cutty, a fellow in forensic pathology wondering if her missing sister will ever appear on her autopsy table and Megan McDonald, the girl who got away, when both Megan and Nicole Cutty disappeared one summer night. Both are searching for the truth of the girls' disappearance for differing reasons. Their search is intertwined with flashbacks to the months and days before the abduction and the story of Megan and Nicole's summer after their senior year in high school.
These characters where all realistic and unforgettable. Livia is an intelligent and driven character. Her career is as important to her as her drive to find out what happened to her sister. She does not throw it away, but uses it in her search. I loved her use of kickboxing for stress relief. Megan was not the same girl she was before her abduction and she still doesn't remember everything from the two weeks she was gone. Mr. Donlea did a great job of showing her before and after and the psychological changes. Nicole was a teen in rebellion and it took so little to tip her over into even darker things. Someone who she thought understood her, changed her whole world in one night.
This was a well written suspense with a plot that keeps you on your toes. This book will definitely be a recommendation read to all my suspense loving friends.
Thanks so much to Kensington Books and Net Galley for allowing me to read this eARC in exchange for and honest review. I loved it!