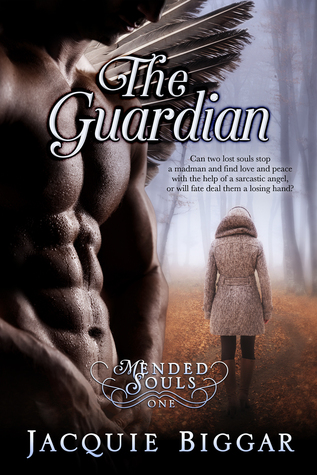 RATING: 5 out of 5 Stars
(I previously posted this review on The Romance Reviews and Goodreads on May 19, 2016. I wanted to post it on my website, since I will be adding the review for the second book in the series The Beast Within soon.)
The Guardian is the first book in a new paranormal series that grabbed my attention from the first page! The characters come to life and the plot is intriguing and keeps you turning the page. Ms. Biggar's paranormal romance, featuring guardian angels has become an instant must read for me.
Tracy York is a Cook County Medical examiner who is great at her job, but not so great with live relationships. She is assigned the case of a tragic auto accident that has killed a famous Hollywood bad boy, Lucas Carmichael, his best friend's sister, and others. Alcohol is suspected, but Tracy is pressured to cover this up. At the same time, Scott Anderson, another Hollywood hunk, is left to live with the loss of his best friend and sister while recovering in the hospital. He blames himself for the accident and doesn't believe it is Lucas' fault. When Scott meets Tracy it is instant attraction. She is beautiful, smart and doesn't fall for his fake persona. Tracy feels the same way, but doesn't trust that Scott could be attracted to a regular person and insecurities abound. As the romance progresses, so do the threats against Tracy.
As you are engrossed with Tracy and Scott, Lucas's story is being told and entwined throughout. Lucas finds himself in heaven and learns that he can atone for past mistakes by being a Guardian angel. He is paired with another and they must learn to work together, while helping those on Earth they love and know are in danger. This storyline is just as intriguing because there is a huge plot twist around who the other angel was on Earth. The book does end on a series arc cliffhanger involving these angels, but the author does wrap up the main suspense plot and romance in this book.
Romance, sex, suspense, greed, revenge, Guardian angels, guilt, forgiveness and atonement are all packed into this book. Ms. Biggar's writing is fast paced, crisp and pulls you right into the characters' lives. I can't wait for the next Mended Souls book!