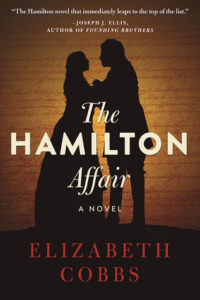 RATING: 4 out of 5 Stars
I have always been a history lover. Give me a factual, scholarly, historical tome or a historical fictional story of a time, place or person and I can sit and disappear into that time or place for hours.
Due to the Broadway musical "Hamilton" many people are being introduced or reintroduced to one of the brilliant founding architects of our republic and THE HAMILTON AFFAIR by Elizabeth Cobbs is an enjoyable historical fiction overview of Alexander and Elizabeth Hamilton's lives and their love.
The beginning of the book alternates between Alexander's harsh life on St. Croix as a boy. He and his brother were declared bastards as they were born into a second marriage by his mother. He refused to let anything stop his ambitions and arrived in the colonies to educate and better himself after his mother's death. In the alternate chapters we get to meet Elizabeth "Eliza" Schuyler and her privileged family of wealth. From her life on the family farm and love of animals to her very open and honest opinions.
When the two come together in marriage, the book follows the couple through the remainder of the Revolutionary War and the author does an informative, yet entertaining, job of describing the establishment of our federal government with all of Hamilton's achievements and also all of the political intrigue and mud-slinging. This is balanced well by the author's descriptions of the Hamilton home life, children, extended family and friends. Hamilton's affair that almost destroyed his marriage and most definitely put a stop to his further political ambitions is also covered.
I really enjoyed this book. It is well written and covered Alexander and Elisabeth's lives in an easy to read historical fiction format.
Thank you to Skyhorse Publishing, Arcade Publishing and Net Galley for allowing me to read this eARC in exchange for an honest review.